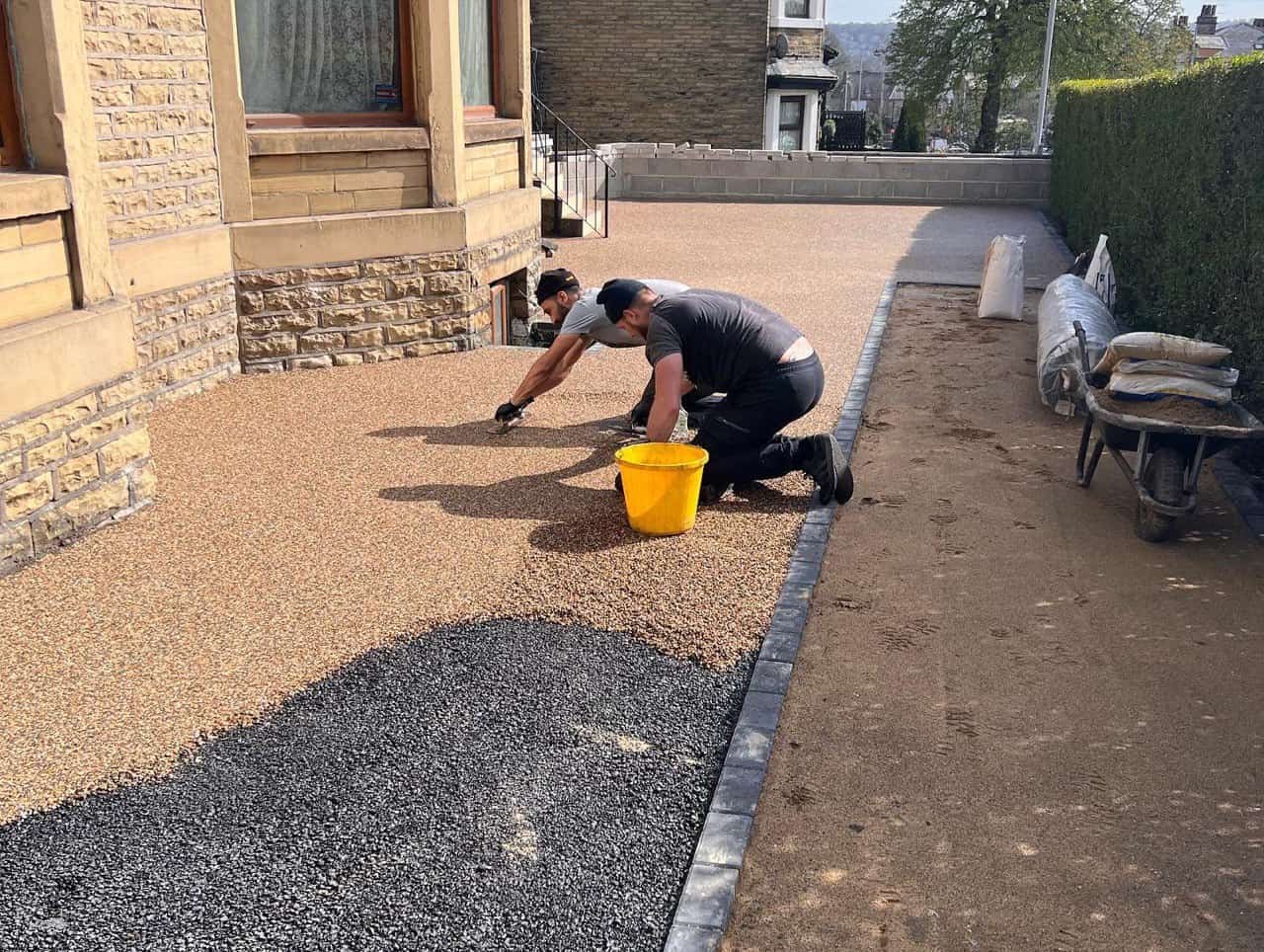 Introduction: At Chelmsford Resin Driveways, we take great pride in transforming ordinary driveways into exceptional works of art. Our resin bound driveway projects not only enhance the curb appeal of homes but also offer durability and low maintenance. In this blog post, we invite you to explore a gallery of some of our most stunning resin bound driveway projects, showcasing the versatility and beauty of this innovative surfacing solution.
Project 1: Natural Elegance
Image Description: A sweeping resin bound driveway bordered by lush greenery and flowering plants.
This project beautifully blends the natural charm of the surroundings with the contemporary appeal of resin bound surfacing. The warm, earthy tones of the aggregate create a welcoming entrance to the property, while the porous surface allows rainwater to penetrate, reducing surface runoff.
Project 2: Modern Minimalism
Image Description: A sleek and minimalistic resin bound driveway leading to a modern home.
Clean lines and a monochromatic colour scheme characterise this stunning driveway. The resin-bound surface seamlessly complements the modern architecture of the home, creating an impressive and cohesive visual effect.
Project 3: Rustic Retreat
Image Description: A rustic-style resin bound driveway with a charming, aged appearance.
For those seeking a more rustic and timeless look, this project delivers. The resin bound driveway features a mix of natural aggregates that mimic the appearance of traditional gravel, adding character to the property. Despite its rustic appearance, it offers the durability and ease of maintenance associated with resin bound surfaces.
Project 4: Coastal Beauty
Image Description: A coastal property with a resin bound driveway that echoes the colors of the sea and sky.
This coastal-inspired driveway combines shades of blues and greys to evoke the calming beauty of the seaside. The permeable surface is perfect for coastal areas prone to heavy rainfall and ensures efficient drainage while maintaining a striking appearance.
Project 5: Classic Elegance
Image Description: A timeless and elegant resin bound driveway framed by stately columns.
This project exemplifies classic elegance. The rich colour palette of the resin bound surface complements the property's grandeur, creating a sense of luxury and sophistication.
Project 6: Nature's Palette
Image Description: A colourful resin bound driveway surrounded by vibrant flowering shrubs and trees.
Incorporating a vibrant mix of coloured aggregates, this driveway project becomes a work of art. It celebrates nature's diversity and adds colour to the property, making it a standout feature.
Conclusion: These stunning resin bound driveway projects demonstrate the endless possibilities and versatility of this surfacing solution. Whether you prefer a modern, minimalistic look, a rustic charm, or a classic elegance, resin bound driveways can be customised to suit your style and complement your property. At Chelmsford Resin Driveways, we specialise in turning your driveway dreams into reality. Contact us today to discuss how we can transform your driveway into a functional and visually captivating space.